and last year only received one.  I was so disappointed–my own mother didn't even send me a Christmas card.
And, I realized that to get Christmas cards–I would need to send Christmas cards.
It's not that I don't want to send them out but I just have never gotten into the habit.  I don't think I even have most of my friends real home addresses.
This year it will all change.
I am going to send out Christmas cards (before Christmas!) (I hope.)  I realize this does not give me very much time but I work best under pressure.  And the pressure is mounting.
I started looking at all of the card options on Shutterfly and there are a ton of options.
I  am having a VERY difficult time deciding.
Which one do you like best?
This one is great but all of these photos were taken last Christmas…a little dated, don't you think?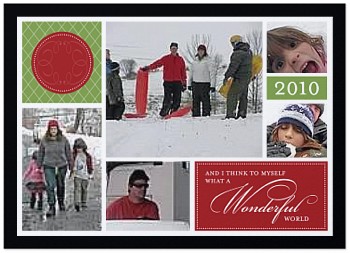 With Love Chartreuse Christmas 5×7 folded card
Or there is this one which is hilarious to me.The card reads, "Be Merry" but the kids couldn't be any less Merry.  Too sarcastic?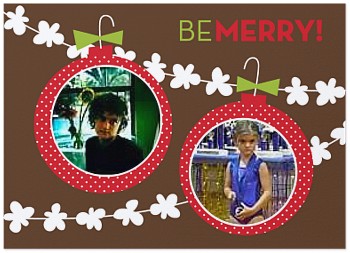 Goody Garland Christmas 5×7 folded card
For hundreds of Christmas card designs,
click here
.
Why can't I decide?  This one contains photos of my nephew.  Is it weird to send Christmas cards with other people's pictures on them?
Peppermint Bliss Christmas Card
This one is probably my favorite because I love this photo of the kids (with Grandma and Mar Mar in NYC). And, it highlights one of the great trips of the year.
Color Me Merry Christmas Card
But still I need help. Please help me decide.
If you have any interest in driving yourself crazy with endless options for cool holiday cards, calenders, and even holiday thank you cards. —follow these links to the Shutterfly site.
And just to let you know, even for us procrastinators, it is not too late!  And, Shutterfly will mail them out for you too….(I may have to take them up on that.)
Disclaimer:  I received a voucher for 50 free Christmas cards from Shutterfly for writing this post.  So, 50 people will be getting Christmas cards for me in my inaugural Christmas card sending year.